About The Artist
After a twenty two year career in commercial Interior Design, Amy sold her business and moved to San Diego. While recovering from extreme burnout in this beautiful pacific paradise she received an unmistakable message from God-OIL PAINTING. That message came seven years ago, Amy's work is now in many private collections throughout the US and Canada. Her work has been displayed in public spaces, galleries and art festivals. She currently divides her time oil painting, life coaching, interior design and taking day trips in and around her new home state of Texas with her husband Bob.
Custom Pet Portrait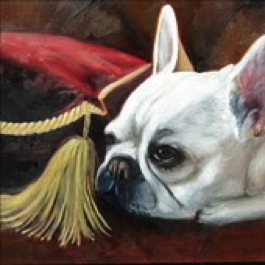 Order a Custom Pet Portrait
My Mission
It is my mission to brighten the lives of others and inspire and ignite a positive change in them. I am currently on a quest to create my ultimate life, a life filled with joy, peace, and abundance doing what I love, painting. It is my desire that my paintings or my words will help generate an internal shift inside the viewer that they may follow their hearts and create a positive change in their life.
Go confidently in the direction of your dreams. Live the life you've imagined. As you simplify your life, the laws of the universe will be simpler. – Henry David Thoreau
My Portfolio