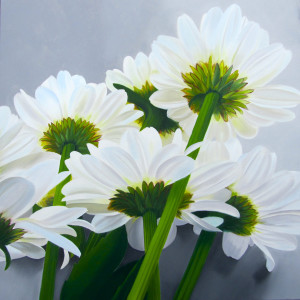 The Enchanting Glow from Below © 2015 Amy Hillenbrand
24 x 24 Oil on Canvas
This painting is the big reason I became an artist and the big reason I paint flowers. How can a painting of daisy be the reason I paint you ask?  Four score and seven years ago, I was a little girl living in Wisconsin. During the summers,  I would go to the open fields near my house and lay among the daisy and stare upon the fluffy white clouds. When I finished with my cloud meditation I would pick handfuls of daisy to bring to my Mom. Right there, (that moment, that split second that I handed the bouquet of Daisy to my Mom) is the magical reason.  I would see in her eyes the look of joy, of love. I also knew with that twinkle in her eye that I had touched her heart. My Mother was not a hugely outwardly expressive person. So that moment of intimacy (in-to-me-I-see) between my Mother and I was so priceless. I cannot even put it into words.  Hence for the rest of her life I gave her daises. So later in life when we lived 1200 miles apart I sent her my message of love in the form of a bouquet of daisy for her birthdays, Mother's Day and in her period of sickness before she died. I knew she knew the love that they represented and also the bond I felt with her. Even as I write this, my eyes are leaking thinking of the love I have for her.
My Mom was a teacher and I think as a teacher she had a gift of knowing what gifts her children had, whether it was the children in her classroom or the four she had at home.  My Mother always encouraged me to be creative. The phrase she said over and over was "you could make that". It still rings in my head when I see something in a store that I want. I hear her voice.  During the summer she sent me to art classes, because she knew what I didn't know at the time. She knew how much I loved to paint and draw.  Even though she knew this about me, it wasn't until I was in my 40's that I ever did any oil painting.
Now, if you have followed my blog for a while or have seen  my portfolio you will know I had a period of time that I painted shoes. And then you will see I stopped and now I paint flowers.  You see, after my Mom left this life to live in Heaven, I had this urging, this desire to paint flowers.  Co-winky-dink?  hmmm… But what I sense is my Mom is still sending me her encouragement.  The signals were everywhere in my life. All the pieces of art I have in my home are of flowers.  The fabrics I selected for my interiors have flowers in them. My favorite hobby is gardening, etc etc etc  It wasn't until she passed on that I recognized what was obvious.
 Flowers = Love  Flowers = Joy    Paintings of flowers is how I express my love and joy to all.  Paintings of love & joy is how I help others touch their own hearts.