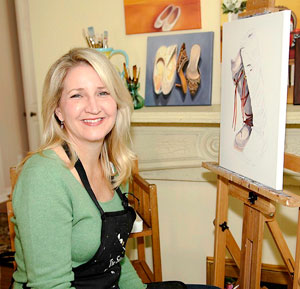 About my Paintings
It is my hope that my paintings will lighten, brighten and uplift your heart and home. It is my conclusion that our Creator put pretty flowers and cute cuddly animals and even gorgeous shoes on this planet to bring us happiness and joy. It is my hope that my paintings transmit that energy and you may feel all warm and happy inside when you look at them.
I paint in a contemporary realism style. Contemporary- because I paint current still life and other subjects in a more modern way. Realism- because it is not super loose or abstract, but there is still a painterly feel about them. I paint using oils in an alla prima way, which means I paint wet paint into wet paint.
About my Journey
In a previous life, I lived my life designing corporate offices, restaurants and health care facilities as the owner of a successful commercial Interior and Architectural Design Firm. I wore suits and high heels every day, ouch. Then my life took a turn. I sold the firm, loaded up the car and moved to Beverly Hills. No, not really but, I did move to San Diego – close enough, right? I swapped my suits for flowing skirts and flip-flops, ahh. While recuperating from major stress burnout, I was laying in bed listening to the ocean waves and I heard a voice. Really, I heard a voice. It was different than my normal intuitive voice so it kind of startled me. It spoke once and it said two words: Oil Painting. Now this was also a little shocking because I had never really painted before and it wasn't on my radar to do. I followed the voice and found an excellent teacher, took some classes and the rest they say…is history. Well, then I heard another voice and I moved to Austin, TX. Note to reader: Always listen to the Voice.
About my other Talents
I teach kitties how to sit, shake hands, lay, walk on a leash and my latest endeavor, leg stretchy (please email for an explanation of this)( I should really make a you-tube video of this one! stay tuned.)
I can imitate the way people walk, I entertain my husband at airports for hours with this bizarre talent.