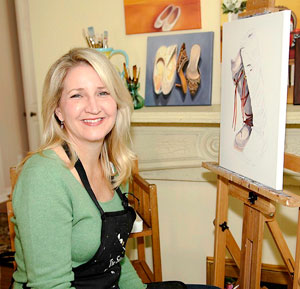 About my Paintings
My paintings are usually very detailed pieces. When I completely immerse myself in the focus of the detail, I can find a quiet place in my mind and being. It is in this meditative-like state that I can allow my intuition to take over and transmute those same happy feelings that I felt playing in the wild-flower fields of my childhood onto and into the canvas.
I paint in a contemporary realism style. Contemporary- because I paint flowers and other subjects in a more modern way. Realism- because it is not super loose or abstract, but there is still a painterly feel about them. I paint using oils in an alla prima way, which means I paint wet paint into wet paint.
About my Journey
In a previous life, I lived my life designing corporate offices, restaurants and health care facilities as the owner of a successful commercial Interior and Architectural Design Firm. I wore suits and high heels every day, ouch. Then my life took a turn. I sold the firm, loaded up the car and moved to Beverly Hills. No, not really but, I did move to San Diego – close enough, right? I swapped my suits for flowing skirts and flip-flops, ahh. While recuperating from major stress burnout, I was laying in bed listening to the ocean waves and I heard a voice. Really, I heard a voice. It was different than my normal intuitive voice so it kind of startled me. It spoke once and it said two words: Oil Painting. Now this was also a little shocking because I had never really painted before and it wasn't on my radar to do.  I painted for fun for several years. During those years I was on the quest to find my life purpose. It seems obvious now, but isn't everything easier is hind sight?
Like most things we look for, it was right under my nose the entire time. I just needed to look back at my childhood to see my natural inclinations. The two things I enjoyed most was coloring and playing in the fields of flowers near my home. I've come full circle. I am at my happiest when I am painting and typically I'm painting the uplifting subject matter of flowers.
My Other Talents
I teach kitties how to sit, shake hands, lay, walk on a leash and my latest endeavor, leg stretchy (please email for an explanation of this)( I should really make a you-tube video of this one! stay tuned.)
I can imitate the way people walk, I entertain my husband at airports for hours with this bizarre talent.