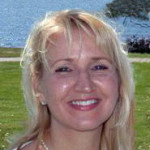 Biography
Amy Hillenbrand was born in Racine, Wisconsin and lived in several different states before landing in her current home town of Austin, TX. After receiving her B. S. from the University of Wisconsin in Madison, she began her career in the creative world as an Interior Designer.
While living in Indianapolis, Indiana, she owned her own successful commercial interior design and architectural firm for fifteen years. The small boutique design studio grew into the fifth largest design firm in Indiana and one of few that was a certified Women Owned Business Enterprise (WBE). She combined her keen eye for color and composition and paired it with her excellent project management skills to spearhead many large multi-million dollar projects. Her list of corporate clients included Otis Elevator, Ford Motor Company, The Hartford, Thomson Consumer Electronics, Praxair, Comcast, McDonald's and Columbia House. She received The Associated Builder and Contractor award for her design of the legal offices for Cinergy, the Public Utility Company serving Indiana and Ohio. Among her many health-care projects, she is proudest of her work with the Indiana Surgery Centers. She worked closely with the Administrator to create warm, soothing environments primarily focused on the comfort and recovery of the patient.
Amy Hillenbrand is known for her restful, heartwarming yet contemporary realist style. She uses her different subjects, whether it is modern day shoes or delightful glimpses of interiors to transport the viewer to a world beyond the obvious. There is a story that is told inside her subjects that adds warmth and comfy nostalgia to each piece. Harmonious color palettes and appealing composition are part of the allure that creates the tranquility. She puts an extra emphasis on the shadows to make the lights more luminous and the composition more captivating.
Amy's work is in many private collections throughout the US and Canada. Her work has been displayed in public spaces, galleries and art festivals including:
Juried Exhibit, "6 inch Squared", Randy Higbee Gallery, Costa Mesa CA, December 2011
Artist of Texas, The Spirit of Texas, Dutch Art Gallery, Dallas, TX, December 2011
Artist of Texas-Fall Show, Dutch Art Gallery, Dallas, TX, December 2010
Juried Exhibit, Austin Art Space, Austin, TX  November 2010
Five Person Exhibit, Wild at Heart, Prickly Pair Gallery Austin, TX, December 2010
The Art Cure Project, Horizon Gallery, Savannah, GA October, 2010
The Austin Bergman International Airport, Austin, TX  May 2010
Two Person Exhibit, First Presbyterian Church Austin, TX  June 2010
Juried Exhibit, Max's Underground Austin, TX, June 2010
Juried Exhibit, Austin Art Space, Austin, TX April 2010
Juried Exhibit, Artspoken Gallery, Austin, TX 2008
Mission Federal Artwalk, San Diego, CA 2006
Taste and Art Scroll, Del Mar, CA 2006
Associations
The Artist's Registry member, New York, NY
Pen and Brush, Artist member, New York, NY
Professional Fine Art Network, Toms River, NY
Contemporary Fine Art International member
Artists of Texas member, Dallas, Texas
Austin Visual Arts Association member Austin, TX
Multicultural Artist's Partnership member, Austin, TX
Austin Museum of Art member, Austin, TX
Artist Statement
I am awed and inspired by the works of art all around us, that in this fast paced world, we may forget that a designer, a craftsman, or artist has lovingly poured their heart and soul into each and every detail of their craft. My intention is that by the restfulness of the backgrounds and the gentle palettes the viewer will be transported to the miraculous silent calm where the spark of inspiration is ignited.