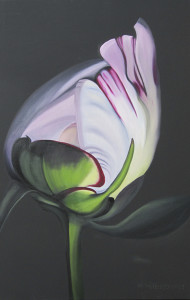 Amazing Grace © 2014 Amy Hillenbrand
36 x 12 Oil on Canvas
SOLD
What a labor of love to create this painting. This was a commission for a friend and what a dream client "he" is. He wanted a piece to put into a niche that was at the top of his really tall stairway. His requests were that is was large enough to be dynamic when you walk into his home, that it have a black background and that it was happy. I mentioned that he was a "he" because when he asked me I said, "you know I don't do landscapes, right"? and "you know I usually paint florals, right"? He said he was okay with that but it had to be happy. Happy I can do.
So last week he came to pick it up- guess what?  He is happy! I asked him to take a picture of it when he got home and tell me what he thought when he saw it in his spot. He said he LOVED it and is excited about the next one.  Now I'm super happy!
If you or anyone you know is interested in a commission please drop me a note to amy@amyhillenbrand.com
Paintings make great gift ideas, just saying…
and you know Christmas is right around the corner, just saying…
Click here for gift ideas