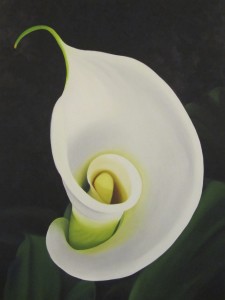 True Devotion © 2014 Amy Hillenbrand
48 x 36 Oil on Canvas
NFS

I recently finished this commission. Boy, what a tough customer he was. He had a specific place in his new home and a specific subject in mind. I wasn't to keen on the idea, it wasn't quite my style. So I suggested x and no he wanted y.
I even painted what I thought would look good in the space in a smaller scale thinking it might sway him when he saw it. He was even able to see previews of it at different steps along the way. Each time he saw a preview, even before he really looked at it, he say nope that's not it. I would say well, "just wait until it's finished and then decide". Sure enough, I finished it and his response was "Nope, that's not it" . I thought it might get ugly during the process. I thought I might back out of the deal. But it was a big painting 48 x 36 and the customer ( have you guessed this yet) was my Husband.
So out of love, I caved and painted what he desired. I figured that he doesn't ask for much and he really has never asked me to paint a specific painting for our home. Then I thought everyday when he sees it in our family room he would know that I love him.
So hard to understand the scale of art on the computer so I've included so I included the photo of the piece hanging in the room.