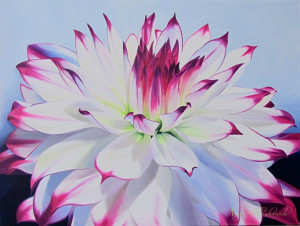 Boundless Love © 2016 Amy Hillenbrand
48 x 36 oil on linen
I'm introducing my new series. It is called High Vibrations. The idea for this series was truly inspired. One day, as I sat down to work on some business details, I had an idea flash in my mind. I did not want to forget the idea. I wrote it down so I could quickly get back to my other work. Well, Someone had a different plan. I wrote and wrote and wrote. The words easily flowed like rushing water and my left brain was completly left out of the picture. It must be what a writer feels like as they are filled with story ideas from above.
As you may know or may not know, I spent many years as a life coach. In addition to my coaching education, I studied many energy healing modalities.  One day the next part of the equation was sent to me; combine my healing gifts with my art. It was as though I had one of those "da!" moments. You know the ones; like why had'n I ever thought of this before. The idea that makes you want to slap yourself upside your head.
This High Vibration series is a series specifically created to be a transformative instrument. Each piece is infused with a higher vibration emotion.  What type of higher vibration emotions you ask? Feelings such as joy, love, empowerment, fulfillment, worthiness, enthusiasm, freedom, happiness, hopefulness, optimism, eagerness and passion. Notice how much lighter you feel just reading those words!  I don't yet want to disclose what energy I infused into this painting. However, I would love to hear your feedback. Please let me know what emotion bubbles up in you when you look at this piece.
As the series continues I will share with you the journey each piece takes and the story behind why flowers. I can't wait, I hope you excited to go on this journey with me.