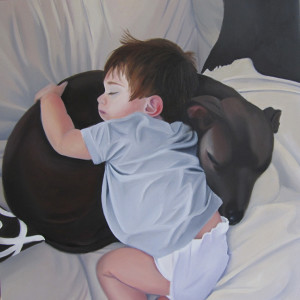 Charlie and His Buddy Blue © 2015 Amy Hillenbrand
12 x 12 Oil on board
sold
Can I get an awwwww?  Such a sweet image.  This is a portrait I recently finished.  I was so excited to share, but needed to wait until the painting reached its final destination of Florida. I don't know who was more excited, the gift giver or me. It was a present from the Grandma of Charlie; who had commissioned the painting for her Son and Daughter-in-law for their wedding anniversary.  Very thoughtful gift I might add.  Just sayin'.
Are you curious how this moment came to be? I was. This is the story from the Mom of Charlie and Blue.
"That picture is one of my favorites. We were sitting on the couch in the den. It was about time for little Charlie to take his nighttime bath, but he was getting sleepy. Charlie was starting to take off his clothes (hence no shorts) and I picked him up from couch. He started crying and reaching for Blue who was still on couch. So we put him back down and he just hugged Blue and fell asleep on top of him."
When the above mentioned Grandma, first approached me with this project I said "sure, of course, I'd love to".  When she first sent me the image, I was overcome with the cuteness of the picture.  I was excited.  And then… and then… I looked at again and thought to myself, uh oh, what have I gotten myself into?  All the fabric folds were quite daunting, but more challenging then that was tackling of that face, that sweet adorable-little face.  If I didn't get that right…..well you know.  When I first started painting it,  I thought ~ well this is going to be okay. Then when I was about half way done, I was tempted to call the Grandma and say "I think I need to back out". Many many times when I'm at the midpoint of a painting I want to open my studio window, whip it outside and let the vultures of Texas eat it for lunch. Then I remember this is the same feeling I have every time. So onward I went and when the last brush stoke went up, I said to myself, this isn't so bad.
More important then what I think, is what the gift receiver thought.  Here is what they told Grandma: "Thanks so much for the painting! We absolutely love it, it's beautiful. I can't believe how much it looks like the picture, incredible!
If you know anyone that would like a portrait like this please pass this on (see the little arrow below this post) or go here to learn how you can commission a painting.  Thank you and I would love to hear your thoughts!