Custom Pet Portraits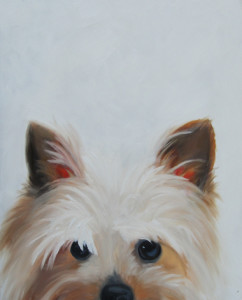 Pet Portraits are a wonderful thing to have. I know this first hand. Several years ago my best-fury friend died after being by my side for 22 years. I had painted her portrait just months before she died and it was such an incredible comfort to have after she left this world to go to kitty heaven.
Pet Portrait also make one of the most thoughtful gifts you could give a friend or family member especially for those who have everything people- you know the ones I'm talking about- don't you.
If you have a photo of the loved ones' pet you could send me directly or you could order a gift certificate go to the gift certificate section for more information.
Find or Take Photos
I paint from photographs, so the better the photo the better the painting. Here are some photo tips:
Be sure to send me photos that best represents your buddy, maybe one that shows off his/her little attitude or lying in their favorite spot or playing with their favorite toy or even dressed in his/her best sweater.
This maybe a photo you all ready have or you may want to spend an afternoon getting the perfect pose.
Take a ton of pictures; you never quite know which one will make the best painting.
It is best for you get down on all fours to get an angle that is very becoming, in most cases this would mean when your eyes or the eye of the camera is equal to their eyes.
Try to get as close to your little friend as possible, but don't cut off their ears.
To get the right colors for their coat be sure to take the photograph with bright lighting. Daylight or outside would be the best or if taken indoors take the picture while the sun is bright coming in the window.
Light coming from the side is the most interesting.
Do not use your flash this will distort the colors and wash out any interesting shadows.
You can send me high resolution photographs as an attachment and we'll work together to create this wonderful keepsake. Don't be scared to contact me with any questions you may have, I won't bite.
Select the Size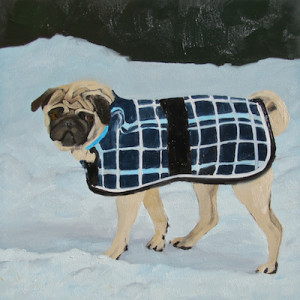 Pricing:
8 x 8 = $320*
8 x 10 = $350*
10 x 10 = $430*
12 x 12 = $550*
11 x 14 = $550*
18 x 14 = $755*
16 x 20 = $950*
*Add $20.00, (unframed artwork) for packing and shipping via Insured Mail. Cost is calculated by averaging the U.S. Post Office Priority rates. I will send you a tracking number so you know when to expect your painting.
If you want to add an additional pet to the painting add $120 to the total and I would suggest a larger canvas. For example if you choose a 18 x 14 size and you add an additional pet the price would be $790.00. If there is a size that you don't see here let me know and I will work with you.
I use a high quality gesso board. What this means for you is that it will last a long time and will less likely be damaged. You can select from a flat board 1/8 deep that can be easily framed or set on a mini easel. Or you can select a board that is set up on a cradle (like a box) that will free you up from having to frame the piece. You can easily hang this on the wall or set it on a shelf. The cradle is made out of eco-friendly materials and is formaldehyde free. The painting will be finished in a varnish to protect it from dirt and dust. Choose from 3/4″ or 1.5″ cradle.
Send your moola (i.e. money).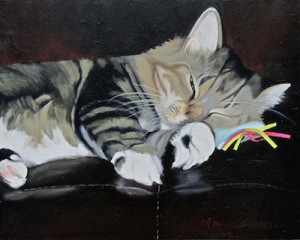 Once you selected the size of your painting I will send you a paypal invoice. Using Paypal is quicker then writing a check and safer for you then using a credit card.
Collaborate
After you have found several photos you think may work, get in touch with me and we will work together to determine the best photograph to use. You can send these digitally or by snail mail. Don't worry I will return your photograph. You can send me high resolution photographs as an attachment and we'll work together to create this wonderful keepsake. You can rely on me to create the best composition to create a pleasing piece of art, but I will rely on you to determine which photo best captures their personality. Contact via email amy@amyhillenbrand.com or by phone 512-567-5604. Don't be scared to contact with any questions you may have, I promise I won't bite.
Production
After we have chosen the photo and you have determined the size. I will start the piece. I will email you the initial sketch for your approval and I can adjust things during this time. Allow for two to three weeks for creation time depending on my wait list or how much caffeine I've had. If you are thinking about this for a Christmas present please contact me early (4-5 weeks) for 'tis the season! The varnish may take a week to dry. I really to add this for a protective finish.
Shipping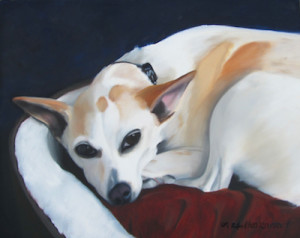 I will send you a happy little notice when your piece is done and it's ready to ship. I spend 30-60 minutes packing your piece so it arrives at your door as pretty as it was when it left mine. If this is a gift, let me know and I will include a note. I use US priority mail which typically takes 2-3 days and you will be provided a tracking number. $100 of insurance is included.
Unfortunately, I cannot offer returns or exchanges on pet portraits due to their custom nature and the many hours that go into making them. I will work with you to make sure your portrait captures your pet's essence and exceeds your expectations!
(PS) Later if you would like a print or some gift cards with your pets portrait on them, I can make this happen. We could add a little zest like a Christmas border or something else fun.
Email amy@amyhillenbrand.com with any questions or use the contact form found here.