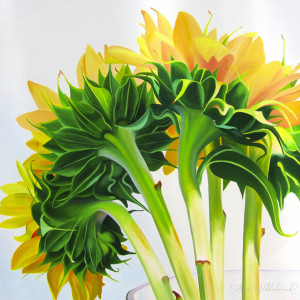 Glorious © 2015 Amy Hillenbrand
24 x 24 Oil on canvas
As you can see, this is not your typical perspective of a Sunflower.  I was quite intrigued by the beautiful intricate design of the back of these beauties.  The engineering, the way the flower is put together, is so very very ingenious. I really wanted to capture the detail of  God's fabulous design. And as I was painting the lovely backs of the flowers I had an A-hA!
Before I can share the A-ha, I have to back up and tell you about a really neat tool created by Sally Hogshead.  It is a personality assessment called How You Fascinate. It informs you of how the world sees you, what makes you fascinating to others.  Here is a quote from Sally  "You already have certain naturally fascinating qualities. These qualities positively shape how the world sees you. These are your Advantages."
I completed the assessment many many months ago and was quite confused about the results. I didn't really see how my profile applied to me.  Some of the words used to describe me in my profile were: precise, language of details and uses a deliberate style of communication. I know when I was running a design business these very much applied to me, but as an artist…not so much or so I thought.
So back to the A-HA, as I was happily painting the glorious detail of the back of the sunflower, it hit me.  For years I have struggled with the idea that I should be more loose in my painting style and try as I might, it just didn't happen. Either I couldn't or wouldn't or did not know how. My style just emerged and it was no where near loose.  Then the words of my profile came back to me- precise, detailed and deliberate. That is exactly how I express myself in my paintings.  I realized the way I paint is okay, it's me! And I only know how "to do" me.
In other news… this painting was selected to be used by a brilliant writer Mary O'Malley in her recent blog. Mary O'Malley is an author, teacher and counselor whose work awakens others to the joy of being fully alive. Her inspired and transformative approach to compulsions offers a way to replace fear, hopelessness and struggle with ease, well being and joy. Please take a moment and read her post titled "Your Grieving Heart Needs Love"