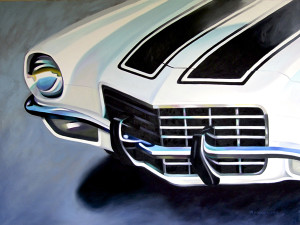 High School Crush © 2014 Amy Hillenbrand
36 x 48 Oil on Canvas
Sold
An oil painting of a 1973 Chevy Camaro? Am I on the right blog? Yes, yes you are. Yes, I normally paint flowers or critters (otherwise known as animals). Yet a wonderful friend wanted to have a commissioned painting from me. He didn't know exactly what he wanted so he left it entirely up to me. How is that for trust?  I was very very honored that he did trust me that much.  I wracked my brain and wracked my brain. Big donut
So then I went to a man, namely my husband, and asked him what would a man want a painting of.  He quickly came up with the idea of this car. This was David's car in high school and he loved it; to say the least.  What guy doesn't love a fast 1973 Chevrolet Camaro? I used a tiny picture from his cell phone, that my husband covertly gained from David, to paint from.
I told David it was a surprise and I didn't even let him have a sneak peek before it was done. So how does the story end?  He loved it.  It was kind of funny because he knows I normally paint flowers. When he opened his eyes on reveal day, he had a blank look on his face. I was worried. Really worried. Then he burst into a huge smile. He explained that he was so excepting a flower that he had to take a second to comprehend what he was looking at. He then snapped a picture and sent it to his Dad and brother and got on the phone to talk to them to tell them how excited he was. Whew! then I knew I was home free.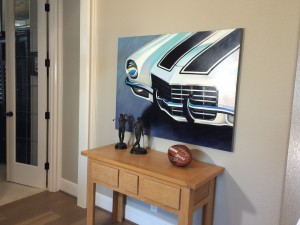 Sometimes it is hard to understand the scale of a painting on the computer so I included this picture to give you an idea of how big it is.  Please share this with anyone that you know who would love a commissioned oil painting. Or click here to see other gift ideas.