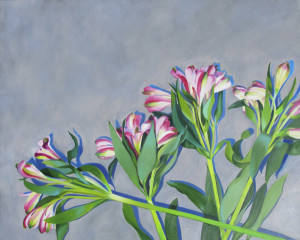 The Frolicking Lily Ballet  © 2014 Amy Hillenbrand
24 x 30 , oil on canvas
I have a little crush on this piece. I had the intent to do something different with a painting of flowers. Is that possible? I wonder how many ways flowers have been painted in the last 1000 years. It boggles my mind just thinking about it.  But Alas…I set out on my quest.
I posed my lily beauties in a haphazard way i.e. lying down vs. all pretty in a vase. Okay, side note: You know how actresses, in the movies, have those casual messy hairdos, that look adorable? You know the ones that are supposed to look like they just threw it together in 2 minutes or less. But you know and I know that she just spent the last hour and a half in the hair and make-up chair with two stylist working very intently. Well, I must confess my little haphazard composition took me a couple hours to throw it together to have the appearance of all free and natural, ha!
I settled on this arrangement because in my crazy imagination I saw dancers. I see one of the dancers laying across the others (like they do in the old 30's and 40's Hollywood musicals). I'm referring to the flower stem that is laying diagonally. When it was time to name my piece,  I see my playful Ballerinas all very much alive and bouncy, which in turn made me think of the word Frolicking. Let the Ballet begin!
This piece was featured in the Georgetown, Texas 2014 Art Hop hosted by the The Georgetown Art Center in the early fall of 2014.