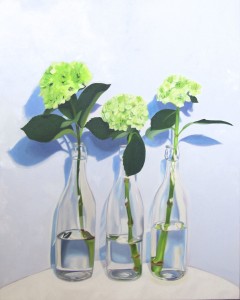 Three's Company © 2015 Amy Hillenbrand
30 x 24 oil on gallery wrapped canvas
I personally love this painting. I love the fresh-happy colors and joyful subject matter. As an artist, I'm always looking for the next idea for a painting. This happened to be an inspired idea. The vision popped into my mind one day. I then I had to pop out to the store to find the perfect bottles to pose my flowers in. I found the bottles in the first store I went to, nice!  I was then on the hunt to find the green hydrangeas that had been in my vision. As luck would have it, I located the hydrangeas at my favorite grocery store. An extra bonus, the store is only 2 miles from my studio.  Happy Days!  It reminds me of the quote:
"The moment one definitely commits oneself, then Providence moves too. All sorts of things occur to help one that would never otherwise have occurred".         Johann Wolfgang von Goethe
I know I didn't move mountains or anything, but it felt so good to have everything happen so easily.
Okay, ready for my weird imagination again?  Here is what I see when I look at the painting, this too popped in my head one day. For the life of me, I can't shake the mental picture. You might not be able to shake it either after you read this! Don't say; I didn't warn you.   Unlike many of my past flower paintings (see here and here,) these happy flowers are not dancers. They are ladies getting a pedicure. Notice they have their feet in the water soaking their toes. These gals are talking up a storm. And like may people in intense conversation, they are talking with their hands. Notice the gal on the far right, she has her hand out in mid-sentence. I can hear her saying something like: "Well!  did I tell you that _______."  I will let you fill in the blank.  Please comment below and tell me the rest of what she was saying!