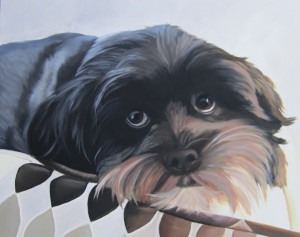 Winnie the Pooh © 2015 Amy Hillenbrand
8 x 10 Oil on board
SOLD
Meet Winnie the Pooh. No, not the adorable Pooh bear from the wonderful classic book, but Winnie the Pooh a treasured friend and helper.  Winnie belongs to Sue Anne Dunlevie. Sue Anne is a blogging coach and has the very helpful blog called Successful Blogging. I met Sue by taking her incredible on-line class called Successful Blogging Blueprint. One thing led to another and now Sue has a portrait of her little fury friend.
The photo I used to paint Winnie, Sue snapped herself after reading my article on how to photograph your pet.  He is sitting in his favorite spot on the couch near the window.
I asked Sue for some little tidbits about her lovely companion. Turns out Winnie is more than a best friend, he is also a service dog. Sue has fibromyalgia and on her bad days he lays with her and on Sue's good days he happily goes along to do the errands and grocery shopping. Can you say car ride? Just like the fictional character, this Winnie loves kids too. He is a kid magnet.  When they are in the stores together, he wears his red "service dog" vest and kids swarm him. They can fondle his ears and even pull his tail and Winnie just licks them and smiles.
This is Winnie at home with his new portrait. Here are the unedited words after Sue received her oil painting of Winnie.
OMG, Amy! Winnie the Pooh is gorgeous as a work of art! I LOVE IT! You are so talented – you got his eyes perfectly (along with everything else, but I assume the eyes are the hardest to paint)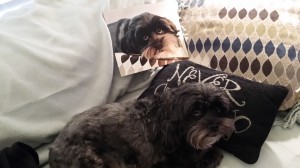 Oh, one more thing I thought you would enjoy. Here is the Making of Winnie. This video is a great demonstration on how I paint a pet portrait from beginning to end.
The Making of Winnie the Pooh- a dog portrait
If there is someone you know who would like to commission a pet portrait please click on the share buttons below this post. Thank you 🙂